We don't realize our moments and stay out of the Riga Football League playoffs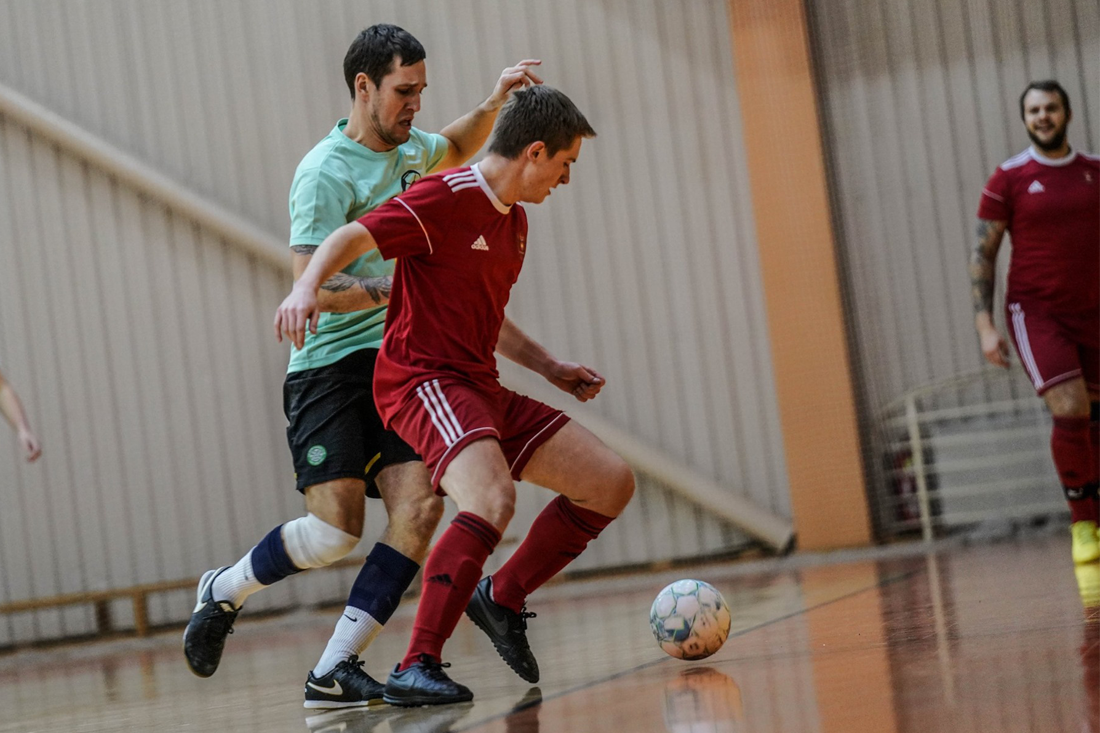 We finished the week with the last match of the regular season of the Riga Football League against BallIn, which consists of several well-known players – Pāvels Baikovs, Antons Vasiļjevs, Artis Kalniņš, Aleksandr Ivanov, Aleksandrs Gladuševs and Aleksejs Vasiļjevs. This game was crucial – it was necessary to get at least one point to keep the hope of entering into the Play-off round.
The game started extremely badly – we couldn't cover the opponent's player in the very first attack of BallIn and 0:1. But already a minute later the opposing goalkeeper made a stupid mistake, giving the ball to Riccardo Paoli, who punished him with scoring a goal. A few minutes later Paoli uses quick counterattack and made it 2:1 for FK Lielupe. After the first 8 minutes dominating on the field – shots on goal were ahead by 11 to 3. This led opponents to take a time-out. Unfortunately, after this pause, the game turned up in the air and the opponent scored three goals by the end of the half.
In the second half, we had to make a comeback, to continue the fight for the playoffs. Unfortunately, the second half didn't start as expected – even though we attacked, we were unable to realize our moments, while BallIn scored almost each of their moments and were already leading 7:2 by the middle of the half. The was a foul on Riccardo Paoli in dangerous area. Heorhii Tkachov managed to score a beautiful goal from this free-kick. Unfortunately, that was our last goal of the game. At the end of the game, our players dropped their hands completely and forgot about the game in defense, which led to 3 more lost goals. With this loss, we out of the playoffs this season.
Now wait for the decision of the organizers about the Cup of Hope organization. It would feature 4 non-Play teams as well as 4 quarterfinal losers.
Kārlis Villerušs (FK Lielupe captain): "This evening we gave all of ourselves, created many great chance to score, we dominated for some time over BallIn, but the realization was disappointing today. I don't think that we would be the last in our group if we have played all games like we did it today. Of course, it's a pity that it didn't work out tonight, but it has to be noted that this is the first experience for our team in Futsal, many players haven't played indoors before, so I'm proud how we played today – we were able to dominate on the field, and we started the second half very good, creating moment after moment, but then we forgot about defense. I don't know if there will or won't be Cup of Hope – we have to wait for a decision from the organizers, but we would be happy to participate in it. Now on December 22nd we are waiting for a big Christmas event – Christmas Cup 2019, this time we are organizing it together with our friends – FK Saurieši. After the Christmas Cup, we will go on a well-deserved rest, then only on January 11-12 we will meet at New Year's event, and then we will start preparing for the 3rd League season. Very interesting news and projects are coming – we already know that next year will be historic for our club, there will be many new entries in the club history section, but you will only find out about it in the new year. It will definitely be interesting not only for the players and the management, but also for our fans. Everyone is already working hard to make FK Lielupe name proud next year! Be sure to follow the news."
| | | |
| --- | --- | --- |
| FK Lielupe | Statistics | BallIn |
| 3 | Goals | 10 |
| 29 | Total Shots | 32 |
| 17 | Shots on Target | 15 |
| 7 | Corner kicks | 10 |
| 0 | Yellow cards | 0 |
| 0 | Red cards | 0 |
Rīgas Futbola Līga (B grupa)
| Vieta | Komanda | S | U | N | Z | GV | ZV | VS | Punkti |
| --- | --- | --- | --- | --- | --- | --- | --- | --- | --- |
| 1 | NAPALM | 6 | 5 | 1 | 0 | 31 | 8 | 23 | 16 |
| 2 | FC Kengarags | 7 | 4 | 2 | 1 | 37 | 13 | 24 | 14 |
| 3 | Riga Evergrande | 7 | 4 | 1 | 2 | 29 | 18 | 11 | 13 |
| 4 | TENTE | 6 | 4 | 1 | 1 | 30 | 20 | 10 | 13 |
| 5 | BALLiN | 6 | 2 | 2 | 2 | 31 | 21 | 10 | 8 |
| 6 | FC OLD SCHOOL | 6 | 1 | 1 | 4 | 13 | 30 | -17 | 4 |
| 7 | Mangal | 7 | 1 | 0 | 6 | 20 | 33 | -13 | 3 |
| 8 | FK Lielupe | 7 | 1 | 0 | 6 | 16 | 64 | -48 | 3 |
Resources:
Riga Football League Facebook page